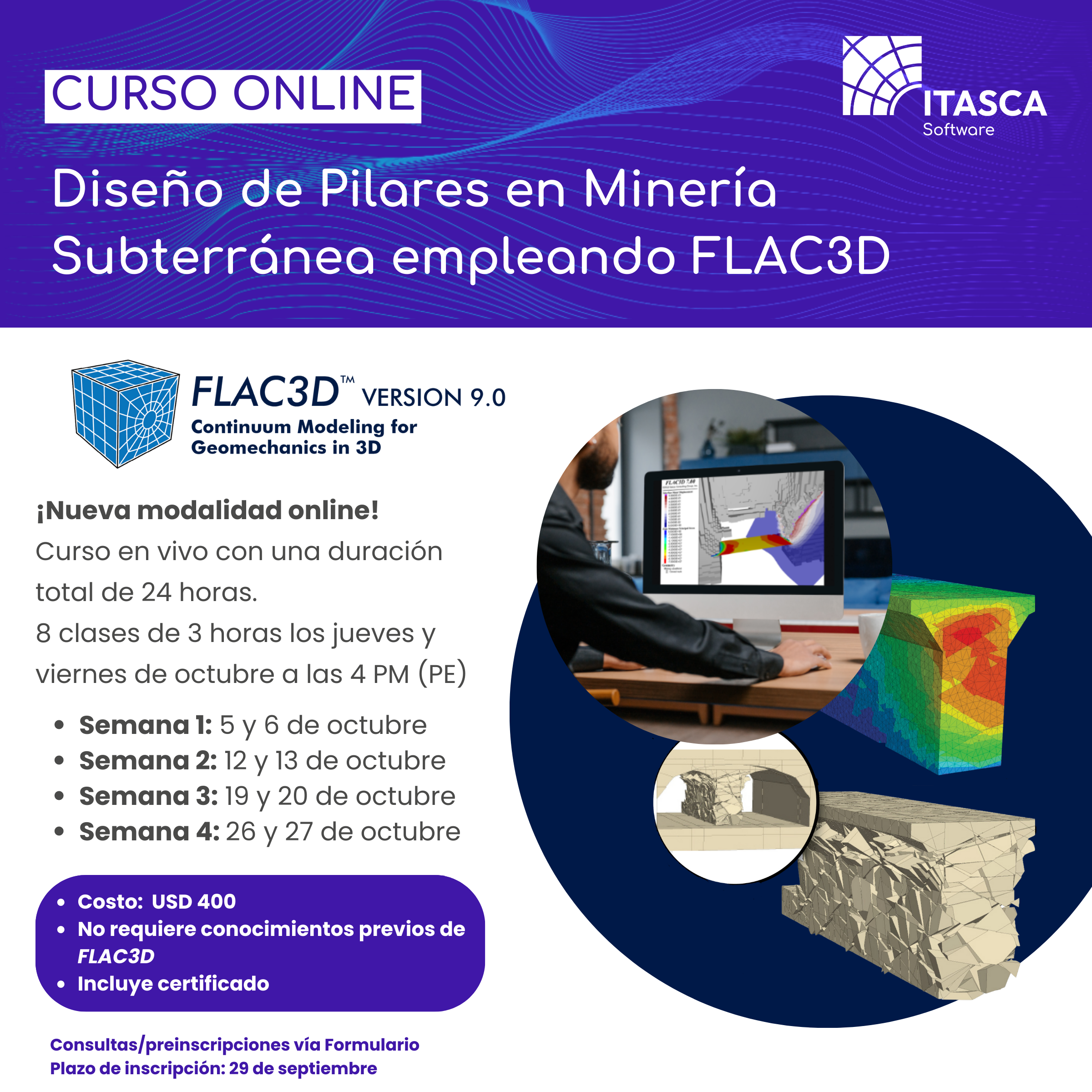 Curso Online/Plataforma TEAMS
05-10-2023 - 27-09-2023
Diseño de Pilares en Minería Subterránea empleando FLAC3D


Online
16-11-2023 - 17-11-2023
This course provides an overview of the Python programming language in Itasca software. The course covers major applications of Python to extend modeling capabilities with the Itasca codes through a number of applied examples.
Tutoriales de Software
A tutorial showing how to create an unstructured mesh in FLAC3D 7.0 using the extruder pane.
This tutorial reviews how you can generate movies from FLAC3D plots. It is also applicable for 3DEC, PFC, and UDEC.
Artículos Técnicos
Numerical models are now used routinely to predict ground-water inflows to both surface and underground mines and to help design dewatering systems.
In this study, we address the issue of using graphs to predict flow as a fast and relevant substitute to classical DFNs. We consider two types of graphs, whether the nodes represent the fractures or the intersections between fractures.
Based on the concept of the representative elementary volume (REV) and the synthetic rock mass (SRM) modeling technique, a DFN–DEM multi-scale modeling approach is proposed for modeling excavation responses in jointed rock masses. Based on the DFN models of various scales, equivalent rock mass properties are obtained using 3DEC SRM models. A tunnel excavation simulation using data from the Äspö TAS08 tunnel is conducted to demonstrate the applicability of the proposed multi-scale modeling approach.