About Web Licenses
Web licenses are an internet-based security system that allow a user to operate Itasca software without a USB key. They are ideal for organizations with many users at different locations and/or for cloud computing. Web licenses are currently available for the following versions (and above):
3DEC 7.0
FLAC 8.1
FLAC2D 9.0
FLAC3D 7.0
Griddle 2.0
PFC 7.0
DETAILS
Web licenses:
do not require a USB key for software security;
allow multiple seats per web license;
permit two instances of the software to run on the same computer for each seat purchased for 3DEC, FLAC2D, FLAC3D, and PFC;
permit one instance of the software to run on the same computer for each seat purchased for FLAC 8.1 and Griddle 2; and
accept an unlimited number of users in the user pool for any license (though simultaneous use is limited to the number of seats on the license).
REQUIREMENTS
Web licenses require internet access during model cycling or model modification.

LOSS OF INTERNET ACCESS
If the internet connection is interrupted during cycling, the cycling will pause and will resume when the internet connection returns. The program does not shut down, and no data is lost when the internet connection drops.
ADMINISTRATION
Install the software anywhere, on as many computers as needed.
Organizations designate License Manager(s) to oversee licenses via the Itasca Web License management web site. They may:

assign other managers to web licenses,
add and subtract users from the license pool, and
view license usage and perform other administrative tasks.


End Users also have access to the Itasca Web License management site, to:

find the license(s) to which they have access,
view detailed information about each license,
see the current usage of licenses available to them (number of seats in use, which users are currently using a seat on the license, etc.),
alter their personal account information (password, contact details, etc.), and
access documentation to help work with their license(s).
ACQUISITION
Web licenses are selected as the license security method (vs. network key or desktop key) at the time of license purchase.
For existing licenses to software that supports web licenses (as indicated above), existing USB keys for desktop or network licenses may be converted to web licenses for a fee.
How do Web Licenses Work
Once a web license is issued, License Managers and End Users must sign into the Itasca Web License management website to create an account for themselves. The credentials for their site account (email/password) are used in the software to connect to the license database where their license is stored. When the software is used, it determines if a license seat is available, and, if so, the user "claims" a seat on that license until it is released (i.e., the software is closed). Documentation, help, and FAQs are also available on the Web Licensing website.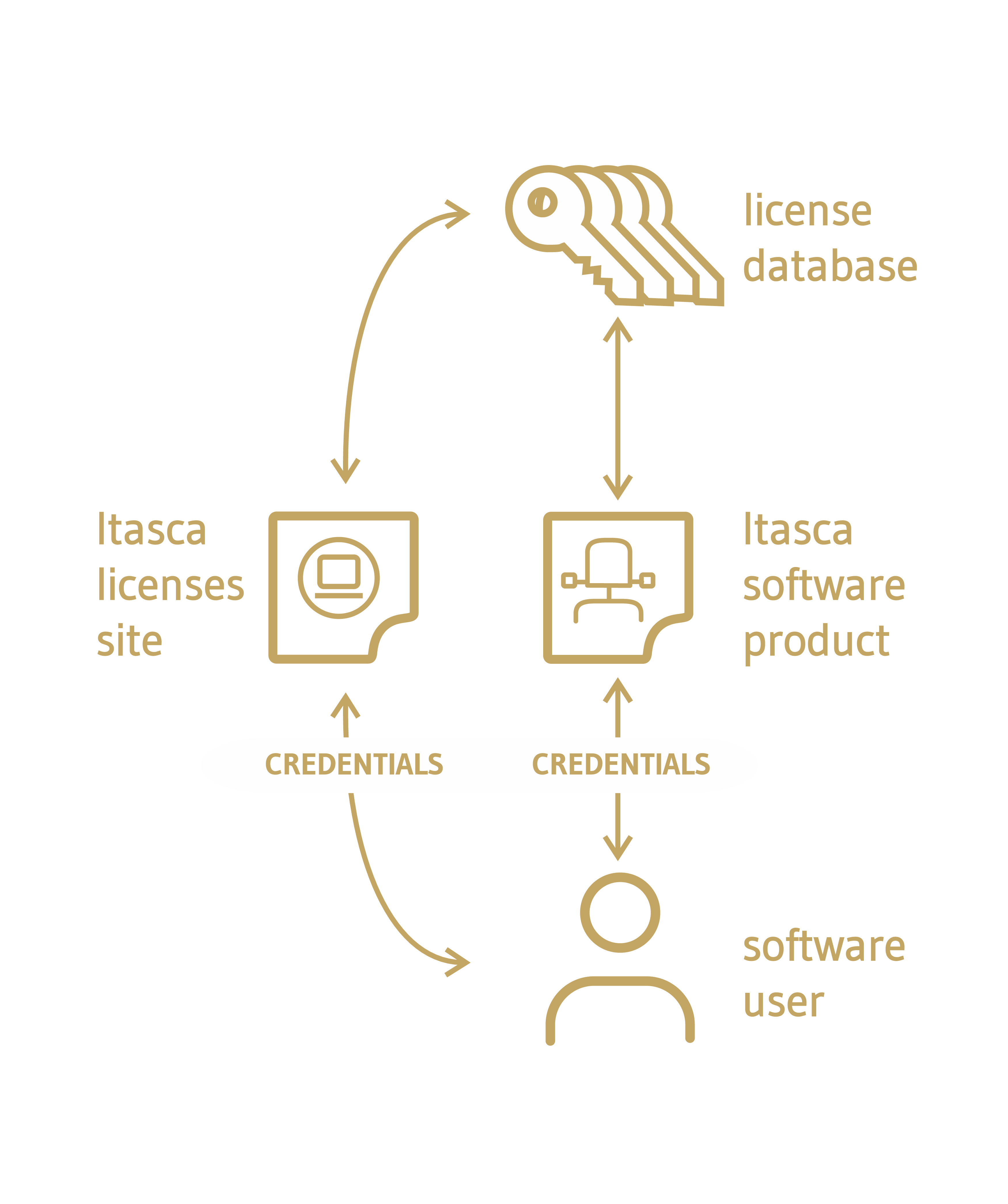 How to Activate Your Web License